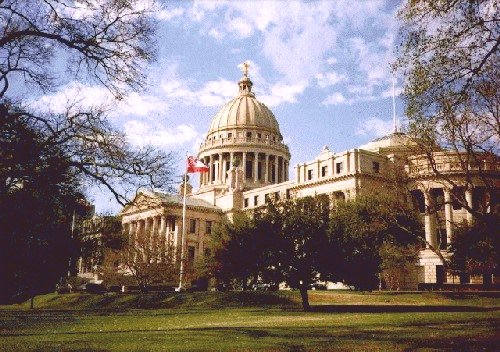 Mississippi State Capitol
1901-1903
The state capitol is the third capitol building built in the capital city of Jackson. The first building was completed in 1822, the second building in 1833 and the current capitol building was completed in 1903. The building was erected on the site of the old state penitentiary and was designed by Theodore Link, an architect from St. Louis, Missouri. The building cost $1,093,641 dollars, which was paid by the Illinois Central Railroad by the back taxes they owed the state.
In 1979-1983, the capitol building underwent a complete restoration, which cost $19 million. The renovation remained true to the original building and strived to maintain the original design when at all possible.
The Beaux Arts style building was designed to house all branches of the Mississippi state government. Currently, only the Legislature and the executive branches are contained in the capitol. The judicial branch is housed in the Gartin Justice Building across High Street.
The capitol is 402 feet long and 180 feet to the top of the dome. The dome interior contains 750 lights which illuminate the blind-folded lady representing "Blind Justice" and four scenes: two Indians, a Spanish explorer and a Confederate general. The eagle which sits atop the dome is made of solid copper coated with gold leaf. The eagle is 8 feet high and 15 feet wide.
On the first floor, the Hall of Governors is located. Portraits of Mississippi's governors since the creation of the Mississippi Territory in 1798 are on display. The State Library and the Supreme Court chambers, now both committee meeting rooms, are located on the second floor. The Legislature is housed on the third floor, along with the Governor, Lieutenant Governor and Speaker of the House's offices. The public viewing for both chambers is located on the fourth floor.
The grounds of the capitol building contains one of the 53 replicas of the original Liberty Bell and a statue erected in memory of the ladies, mothers, sisters, wives and daughters of the Confederate soldiers. Among the trees on the grounds are the state tree, the magnolia, along with two Japanaese magnolias. The battleship figurehead is from the second USS Mississippi. The ship was sold to Greece in 1914 but the figurehead was presented to Mississippi by the United States Navy in December 1909.
The Mississippi State Capitol is designated a Mississippi landmark building and is listed in the National Register of Historic Places.
Home